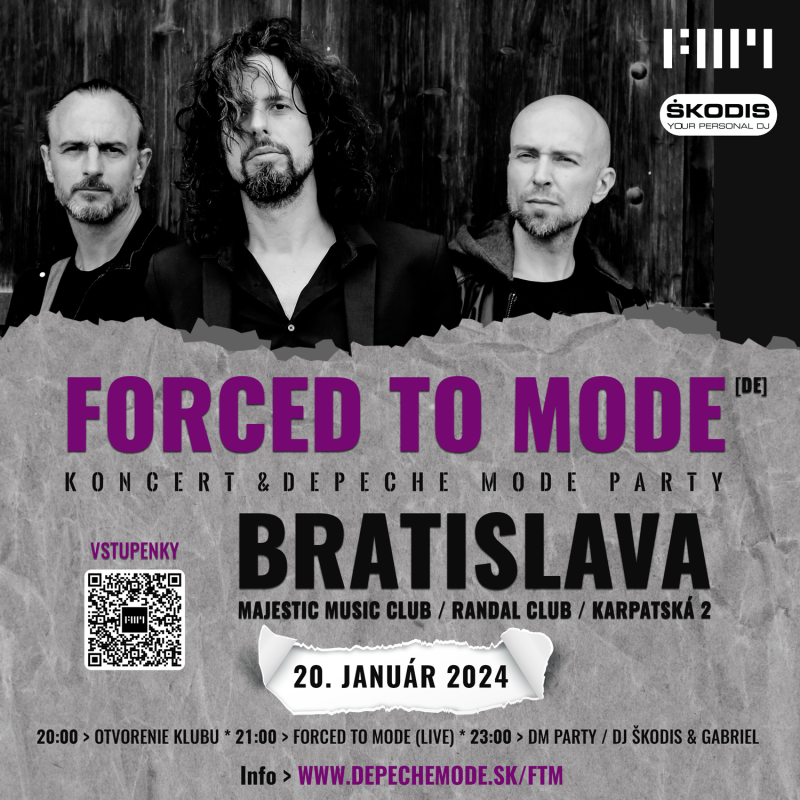  
Forced To Mode + Depeche Mode Party, Bratislava, 20.1.2024
Tickets for the concert of the Forced To Mode at the Majestic Music Club on 20.1.2024 and the subsequent Depeche Mode Party at the Randal Club, Bratislava.
On Saturday, January 20, 2024, Bratislava's Majestic Music Club will welcome best Depeche Mode's tribute project, the German band Forced To Mode. Depeche Mode Party (DJs Škodis and Gabriel) will follow.
F2M is considered the world's best Depeche Mode cover band, whose performance was enthusiastically received in 13 countries across Europe. F2M is a project started in 2011 by the German band Forced Movement as a tribute to the cult band Depeche Mode.
It's time to dress in black and go on a musical journey through time that for many began in the 80s and get an experience you won't soon forget and a must have!
Depeche Mode Party featuring by DJ Škodis & Gabriel
See you in Bratislava.
Program
20:00 - Doors Open
21:00 - Forced To Mode (live)
23:00 - Depeche Mode Party (Randal Club) - DJ Škodis & Gabriel
Tickets
30 EUR (pre-sale: 26 EUR)
Data sheet
Event type

live performance (concert) + after party

Organizer

depechemode.sk

Ticket type

e-ticket / hometicket
1 other product in the same category: